ES001-Mag Loop Check Phone Set with super strong Magnets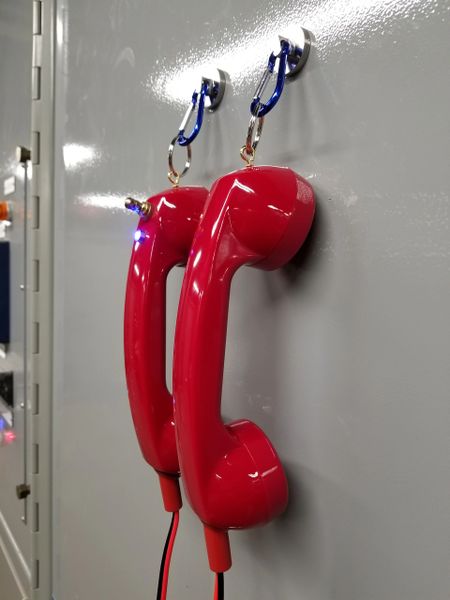 ES001-Mag Loop Check Phone Set with super strong Magnets
Loop Check Phone Set with MAGNETS Tracer Phone Set Electrical Continuity Test Phones ES001-M
Now you don't have to hold your phones while you wait for the other person to get to the other side of the cable!
Now with super strong MAGNETS!
Never again do you have to put your phones on the floor while working or waiting to make a loop check. Simply hang them where you can see the light if you are working receptacles, switches or lights in the same room you can do it yourself! The heavy duty magnets will make your job a lot easier, no more stepping on them, dropping or banging them, these magnets will keep your phones safe wherever you put them until you need them. Every electrician will appreciate this set!   
These phone sets are professionally made with the highest quality parts, 100% ready to use right out of the bag and designed to check for continuity and loop check. Made for electricians to work on non-energized single conductor cables and multi conductor cables no matter how long they are. Simply clip one phone on each end of the wire to check. Communicate two people loud and clear, no noise or interference. Includes on/off switch, super bright LED light that lets you know when continuity is complete, enteral 12 volt battery, Velcro ties to secure wire leads, kink less silicone leads, carrying case, and support. Product ships USPS priority within the continental US! If you have any questions or need a shipping quote (if needs faster shipping OR needs to be shipped outside the continental United States) please feel free to call or email us for a shipping quote before placing your order. 

These handsets colors are black or dark red, your choice. 
*Do NOT use on LIVE circuits or energized wires of any voltage. Misuse may result in serious injury or death. We are NOT responsible for any misuse that leads to personal injury, property damage, damage to the phones or any other equipment of any kind.